Foxy Loxy Cafe, Savannah, GA
1919 Bull St, Savannah, GA 31401
The Savannah adventure continues. In usual fashion, my friend and I booked an Air BnB and stayed about two miles down from the heart of downtown on Bull Street. If you haven't heard or used Air BnB, consider this as me jumping on table and screaming 'DO IT!' For less than the price of a hotel room, you can book out an entire apartment/house for the weekend with friends. Air BnB allows you to feel like a local. 98% of the time you'll get a fantastic host who can direct you to the best foodie digs, sites to see and tourist traps to avoid. Plus, you can find some really unique places. We stayed at the Stella Blue Starland Cottage and found it perfect and adorable.
We were only a ten minute walk from our host's recommendation:
Foxy Loxy Cafe.
Foxy Loxy speaks to my heart; a coffee shop that doubles as a Tex-mex cantina. Their combination of tacos and coffee is pure genius. I'm convinced, you can't trust anyone who doesn't like breakfast tacos.
Foxy Loxy is also good place to catch some afternoon brews or wine. I hear they play host to some intimate, live music by regional artists on Acoustic Tuesdays.
Check out their website for event postings: https://foxyloxycafe.com/
This AM, we kept it PG and stuck to coffee. Foxy Loxy serves PERC coffee, a renowned local roastery in Savannah (more on PERC later). From what I understand, you can't go wrong with PERC. It's a local favorite. Foxy Loxy takes their coffee seriously. For you unabashed coffee snobs out there, take heart; they measure out their grind to the ounce. After our steamy stroll in, I was in the mood for a cold brew. Are you seeing a pattern yet?
The walls in this place were something else.
One inch wood strips layered together in a parallel mosiac design. I watched one guy measure it, takes photos and try and figure out how it was designed so he could replicate it at home. Nothing like a little design inspiration from a coffee shop.
We can't forget about Foxy's art collection. If you look closely, you'll see some graphics for sale on the wall.
My favorite design read:
There is no planet B.
TRUTH, right?
Design inspo doesn't end with the walls downstairs. Take a saunter with me upstairs and get the feel for the superb gallery wall (filled with TEXAS!) I'm always impressed with how folks can pull everything together so well in gallery walls. Why does it seem so hard to do on your own?!
As a cow-lover, I am partial to this space below. Also, I adore how they've incorporated this church pew.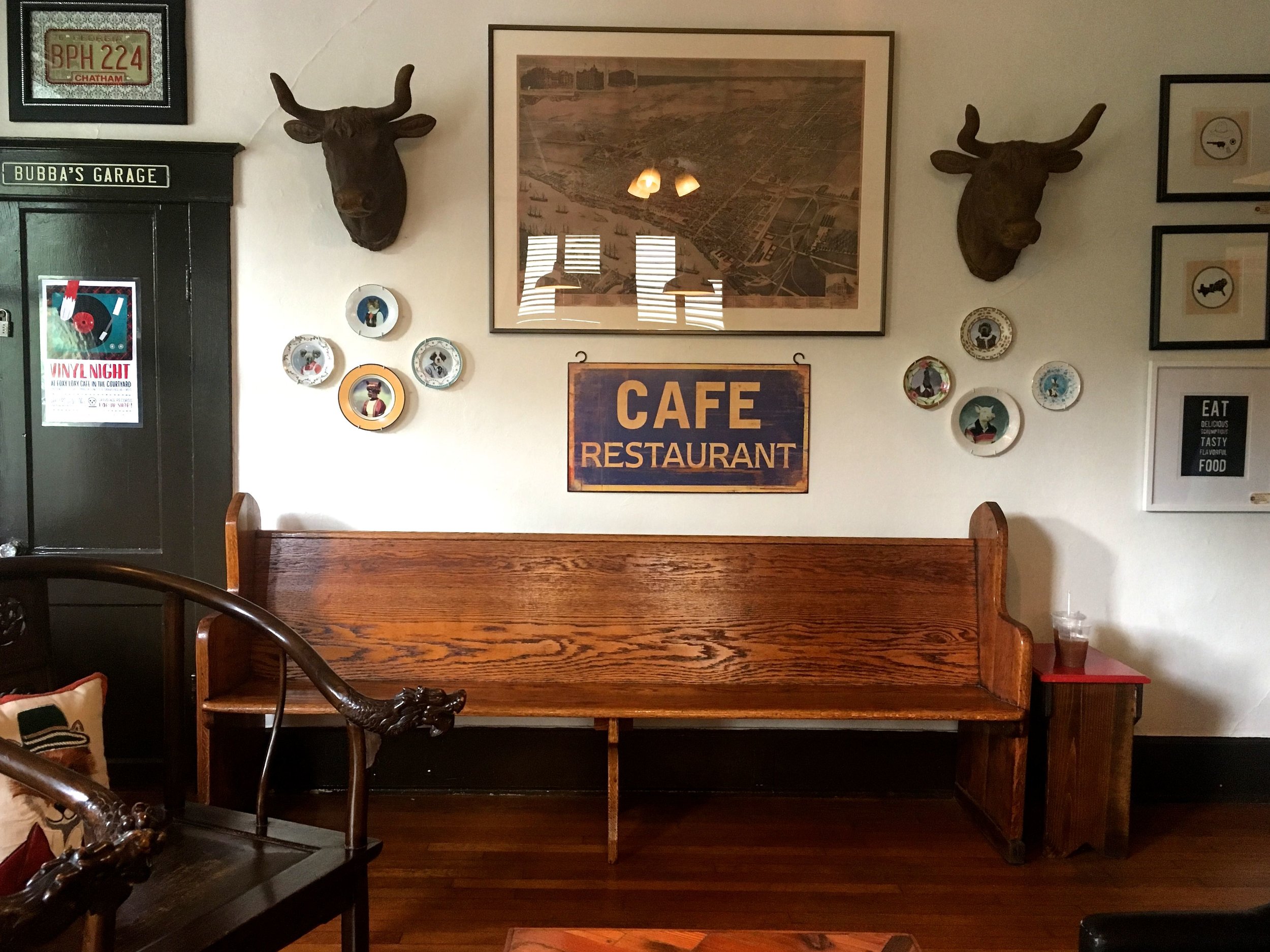 Foxy Loxy has a brother cafe downtown, The Coffee Fox. We ran out of time to give it a visit, but if it's anything like Foxy Loxy, I'd give it a firm recommendation! If you're looking for a place to have a delicious savory breakfast and quality brew, Foxy Loxy is your jam.