Caffe Umbria, Chicago, IL
346 N Clark St, Chicago, IL 60654
Personal story alert: Chicago is the first city I ever visited by myself. I was 16 and dating a senior in high school (which I thought was really cool) who had never flown on a plane. We'll call him 'Chet.' My father flew for Southwest Airlines, which has a huge hub at Chicago's Midway Airport and when he first starting flying commercial, my family thought it was so cool to take 'day trips' to Chicago. Years ago, there were tons of flight going from Houston to Chicago and there were always open seats. We'd fly in at 8 AM, take the subway to get pizza at Giordanos, hang out at Millennium Park and window-shop the Magnificent Mile. All that we'd still be home in Houston by 9 PM. I thought we were so fancy!
When my parents found out Chet had never been to Chicago, they proposed that I take him for a visit. 16-year old Melanie marveled at this idea. I think I more so marveled at the fact that my normally protective parents were not only willing, but supportive of their teenager stomping around Chicago on her own. I jumped at the idea before they changed their minds.
Almost a decade later, I still chose to hang around the same places.
But this time, I added in Caffe Umbria.
And I'm so happy I did!
Caffe Umbria is just a hop, skip and jump away the Chicago River. You walk down from the river a few hundred feet and you're there! I mean you literally walk DOWN from the river on North Clark Street. Just look at the photo above. The cafe sign straight, but the street is at angle. I went crazy taking a photo because I just couldn't get the lines straight.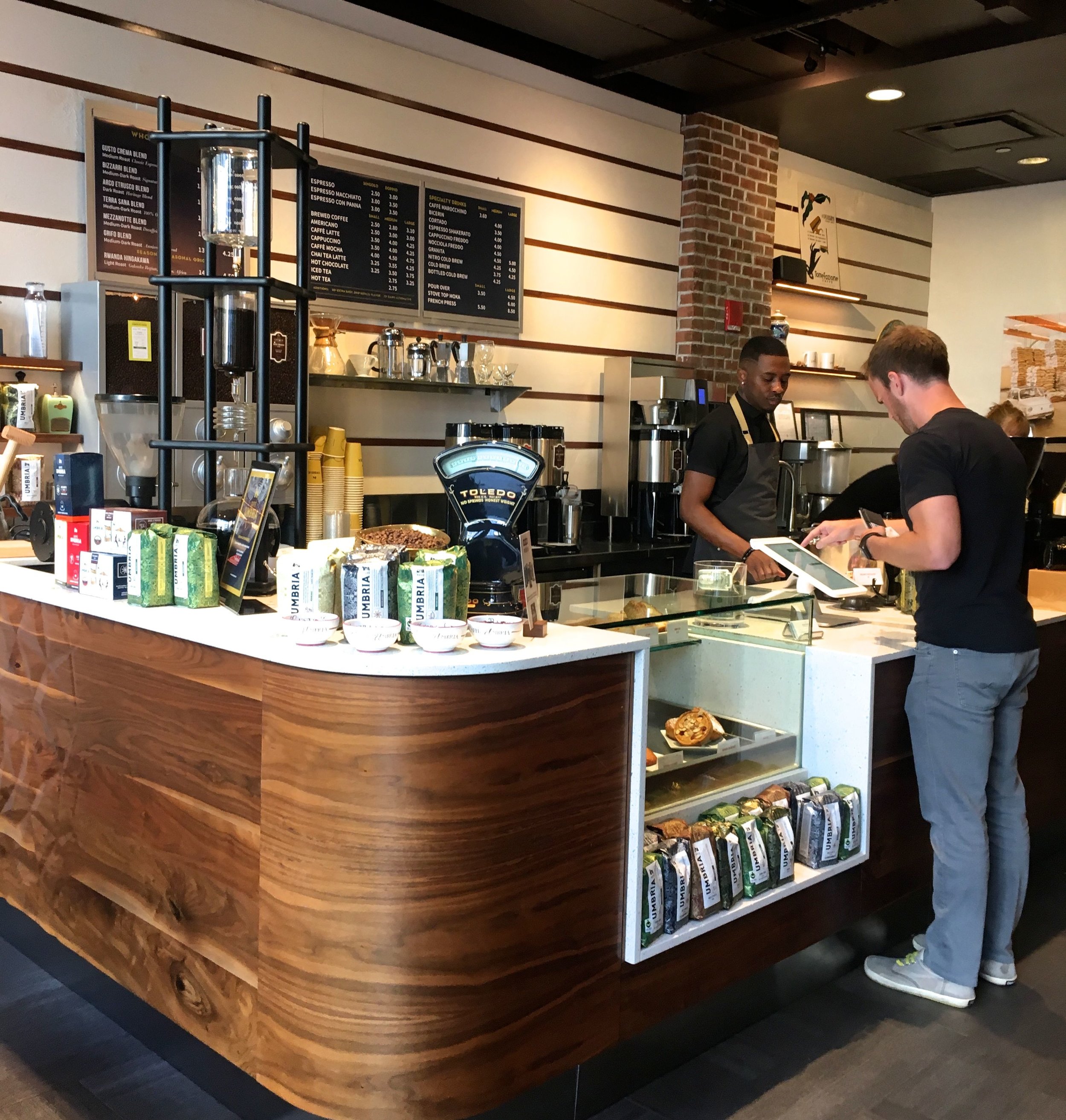 I was so interested in hearing the Umbria story and despite the busy cafe, the caffe's manager was so kind to pause and tell me about it. Umbria distinguishes itself with its italian styled espresso. What's Italian style espresso? I had to ask too. Italians take a variety of beans and blend them together to create a more rich, complex flavor that's hard to achieve with a single origin coffee.
Umbria was started by an Italian third-generation coffee roaster in Seattle. The first cafe, founded back in 1986, is still in its original location at Pioneer Square in Seattle. Caffe Umbria in Chicago is the newest of the current six.
Umbria offers their signature in-house roasted blends and a couple of single-origin options. I'd normally shy away from blends, which led me to buy a single-origin coffee from Ethiopa, but I would have opted for a blend had I spoke with the manager prior to buying my beans!
Either way, I cozied up to a rather enormous latte, said 'oh well' to my general lactose intolerance, and shared it over good conversation with my friend Dawn and her chai latte.
Umbria is a great place for a quick coffee pick me up.
The baristas were extremely friendly and the coffee was smooth and creamy. The food is on the lighter side, so I wouldn't recommend coming here looking with the hope of filling an empty stomach. Considering my 2 PM NEED COFFEE mentality, I certainly didn't mind.